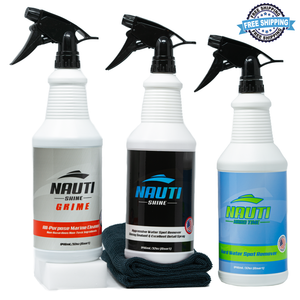 🇺🇸Made in the U.S.A.
1. Nauti Shine 32oz Bottle - Aggressive Water Spot Remover - Glossy Sealant & Excellent Detail Spray
What Makes Nauti Shine Worth Carrying
Aggresive water spot removing formula
Does NOT strip your current wax or sealants
Your watercrafts will ALWAYS be glistening in the sun
2. Nauti Grime 32 oz Bottle - All-Purpose Marine Cleaner
Non-Hazardous Non-Toxic Ingredients
All-purpose cleaner and degreaser to clean, grease, grime, spills, and slime.
Designed by a professional detailer for marine and automotive purposes. Safely cleans interiors and all the latest unique upholstery fabrics and foam flooring /deck offered in the marine industry.
3. Nauti Hard Time 32 oz Bottle - Hard Water Spot Remover
Hard time is formulated to remove hard water and calcium stains on your watercraft. Safe on glass, plastic, stainless, powder-coat, paint, gel-coat, and fiberglass. HARD TIME WATER SPOT REMOVER COULD STAIN SURFACES IF NOT USED AS DIRECTED. DO NOT USE ON ALUMINUM OR ANODIZED ALUMINUM IT WILL PERMANENTLY STAIN.